Radmedix has introduced its compact advanced u-arm x-ray system which features faster radiography imaging through motorized fully automatic positioning. This allows the system to be moved into an exact position per the exam selection through our intuitive touchscreen display console or by the included handheld wireless remote control. No longer spend unnecessary time manually moving the system, just select one of your pre-programmed positions and you're ready to go.
The Acuity UDR has been built to be the "right fit" in all radiography applications whether it's a high throughput orthopedic office, medical application, or hospital, the UDR can do it all.
Experience our innovative Fully Automatic Acuity UDR solution today! Increase clinical efficiency and greatly improve patient care.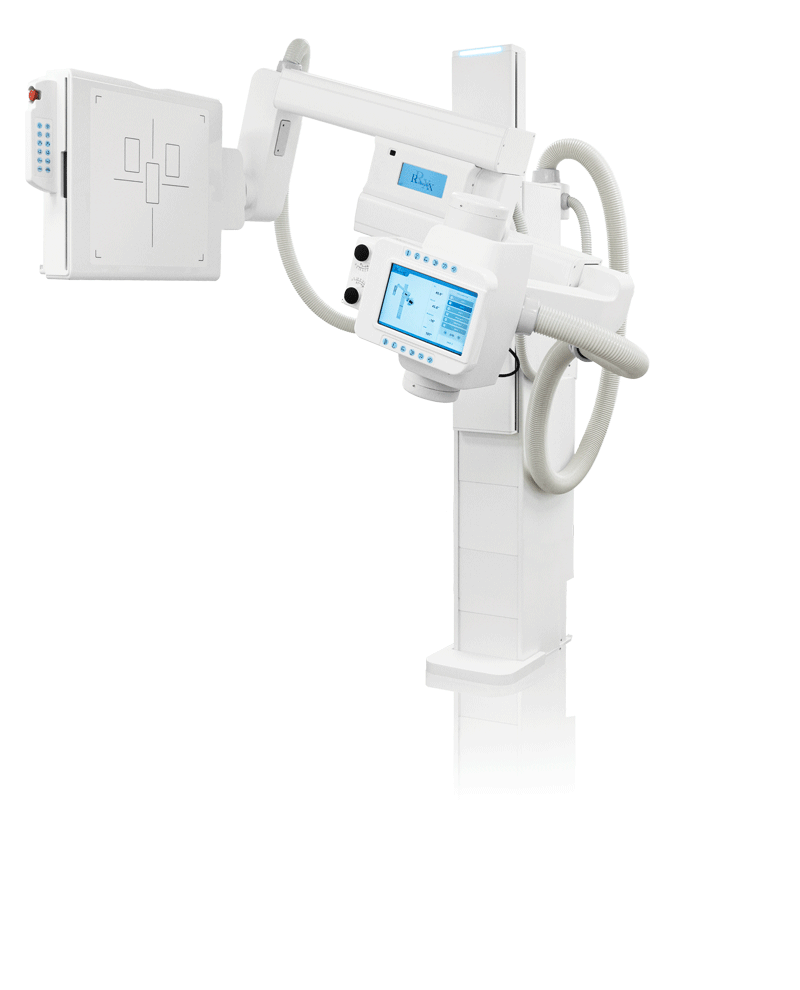 Perfect for Any Clinical Application.
Medical, Orthopedic, Urgent Care, and more.
Motorized Full Auto Movement
Selectable on touchscreen or wireless remote
Intuitive 10″ Touchscreen
Controls all system components
Pre-Programmed Positions
Up To 60 Fully-Automatic Positions
Optional AEC

Automatic Exposure Control

Integrated Safety Features

Emergency Button & Collision Sensors
Dual Laser LED Collimator

Fully Rotates with Precise Imaging

Small Footprint System

Fits 8′ Ceiling Height
Optional Mobile Table

Lightweight Patient Imaging Table

Optional Weight Bearing Stand

Easier Lower Extremity Imaging

Integrated DR Detector
High Quality Unmatched Imaging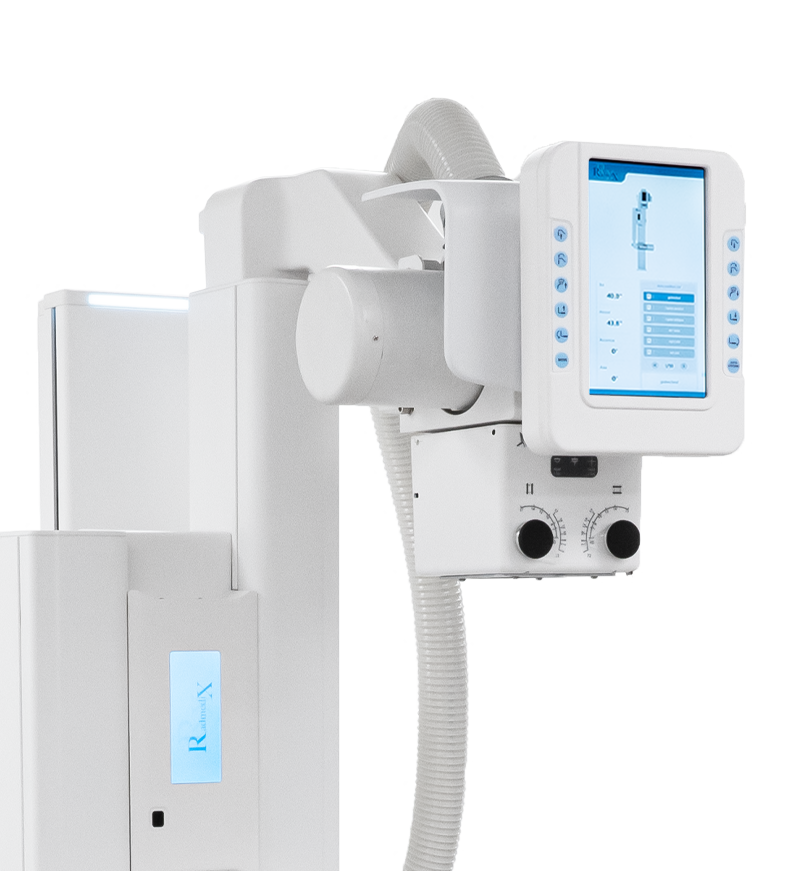 10″ Intuitive Touchscreen.
Simplified Operation

at your Fingertips
Immense 10" touchscreen display console that controls all system components while providing the operator with simplicity and ease of use.
Remote diagnostics for troubleshooting anywhere in the world. No more operation confusion.
Fast setup capability, you can pre-program up to 60 positions for any exam type.
Build your own projection list then the system automatically sets the SID and height.
MOTORIZED FULL AUTO MOVEMENT.
The Acuity UDR automatically moves into position through customizable pre-programmed positions that you can save into the system to recall at any time through the touchscreen console or wireless remote.
EFFORTLESS EXAM POSITIONING.
Quick, easy stand positioning enables a wide spectrum of upright imaging of the chest, abdomen, and other skeletal exams as well as supine imaging of patients on the optional patient imaging table including various oblique techniques. Full auto movement makes patient positioning FASTER and EASIER than ever before.
Utilize our optional mobile patient imaging table.
The Acuity UDR features a unique u-arm design which when paired with our optional patient imaging table allows for a variety of exams in non weight bearing views with precise alignment such as cross table lateral.
Table Specifications
Patient Load: 500lbs
Tabletop Dimensions: 32″ x 86″
Locking Wheel Mechanism
U-Arm Weight Bearing Stand
The Acuity UDR can also be used with our optional weight bearing stand which makes lower extremity x-ray imaging such as foot/ankle more convenient and easier than ever. Just select your preset position on the UDR for automatic movement then move the stand overtop the bucky.
The stand comes equipped with a locking wheel mechanism to keep it from moving and it has a clear polycarbonate top, rated for 500lbs to support any patient.
Table Specifications
Patient Load: 500lbs
Stand Top Dimensions: 32″ x 86″
Locking Wheel Mechanism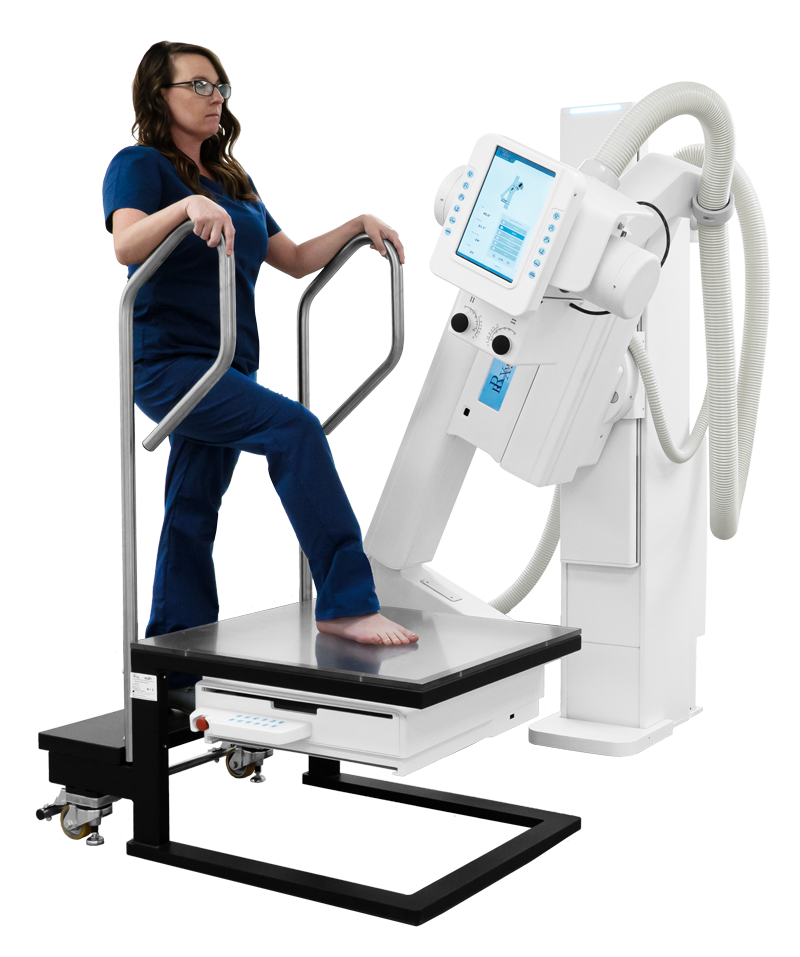 Radmedix's powerful AccuVue software offers a clean, customizable user interface for fluid workflow even when complex exams are demanded. It's 10 point touch optimization offers the look and feel of a modern software GUI users expect from a seasoned imaging system. AccuVue was designed for premium chiropractic imaging in mind.
10 point touchscreen optimization
Customizable tool bar menu's – display only what you use
Advanced image wizard
Display and customize diagnostic image with 9 different processing's from a single shot
Email exams from directly within the software
Complete generator integration with RadmediX X-Ray Systems
Create unlimited common customized exams
Create and generate reports