The Acuity SDR+, is a digital radiography system designed for a wide range of general and specialized diagnostic imaging. One of our most popular x-ray solutions, the Acuity SDR+ is known as the straight arm system that can do it all, no matter your practice. The semi-automated, pre-programmed positioning allows for maximum efficiency, which includes up to 60 customized, pre-programmed positions of any exam type. The integrated digital flat panel detector offers flexible imaging of all anatomy with unmatched resolution at industry leading lower doses.
The Acuity SDR+ features a 10" touch screen display console which automatically controls all system components while providing the operator with unprecedented simplicity and ease-of-use. Whether working in a general radiology or orthopedic application, the Acuity SDR+ system provides the user with customized work flow, unmatched functionality and exceptional diagnostic quality at an affordable cost. Give us a call and we'll work with your budget to get your patients the x-ray care they deserve. 844.723.6334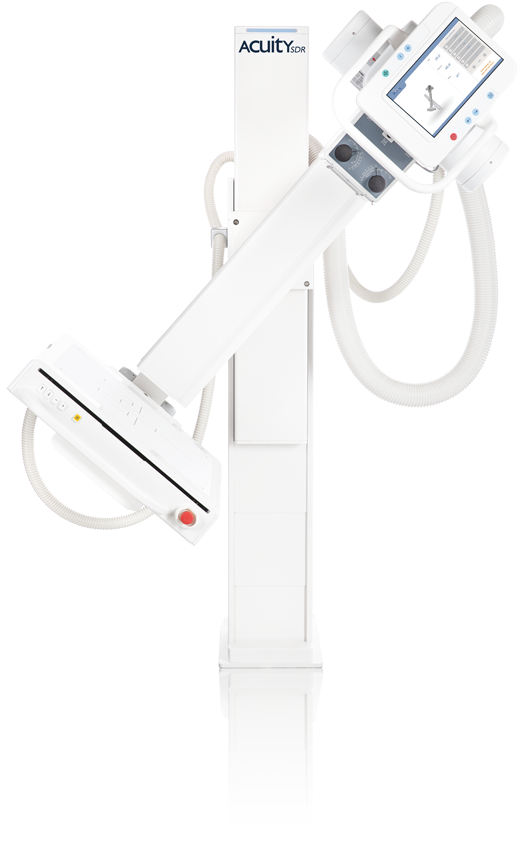 Suitable for a wide range of practices
Urgent Care | Medical | Orthopedic | Chiropractic
Intuitive 10″ Touchscreen
Controls all system components
Pre-Programmed Positions
Up To 60 Semi-Automatic Positions
Unlimited Exam Possibilities

Motorized (SID) Adjustment

Optional AEC

Automatic Exposure Control

Integrated Safety Features

Emergency Buttons & Collision Sensors

Dual Laser LED Collimator

Fully Rotates with Precise Imaging

Simplicity, Ease of Use

Fluid Movement & Display
Small Footprint System

Fits 8′ Ceiling Height
Optional Mobile Table

Lightweight Patient Imaging Table

Integrated DR Detector
High Quality Unmatched Imaging
10″ Intuitive Touchscreen.
Simplified Operation

at your Fingertips
Immense 10" touchscreen display console that controls all system components while providing the operator with simplicity and ease of use.
Remote diagnostics for troubleshooting anywhere in the world. No more operation confusion.
Fast setup capability, you can pre-program up to 60 positions for any exam type.
Build your own projection list then the system automatically sets the SID and height.
Unlimited Exam Possibilities.
Quick, easy stand positioning along with motorized source-image-distance (SID) adjustment enables a wide spectrum of upright imaging of the chest, abdomen and other skeletal exams as well as supine imaging of patients on the optional mobile table including various oblique techniques.
Optimize speed, precision, and versatility with Bucky side controls. A full range of motion enables all imaging views required, while accommodating patients who are standing, sitting, lying on a table or confined to a wheelchair.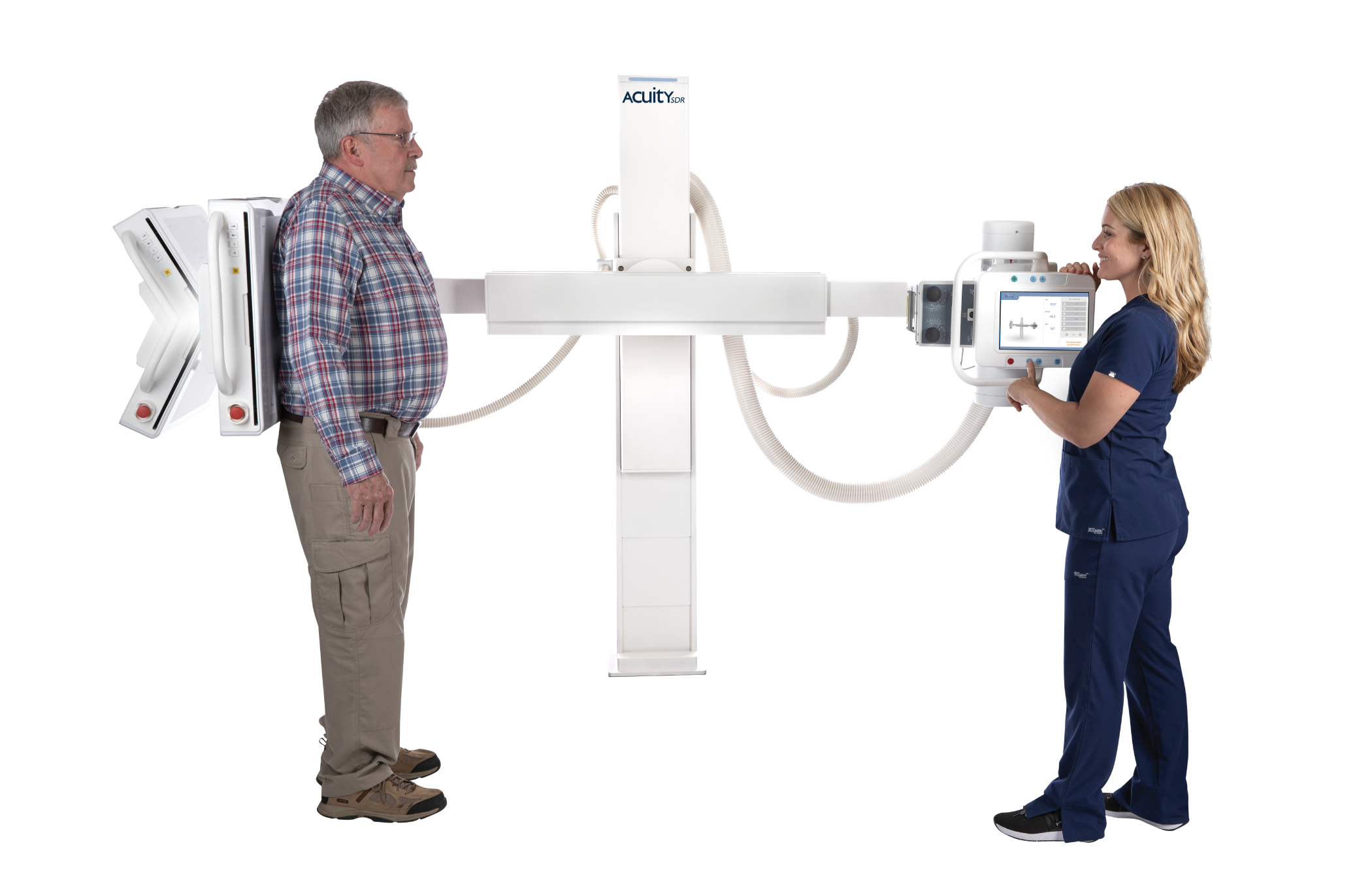 "After discussion, after looking at multiple options, we realized that the Radmedix Acuity SDR+ system was going to be our number one choice. We made the decision and we've never looked back since."
— Dr. Ankur Patel, DO, RPH | Southern Pain and Spine
Our Acuity SDR Standard Solution
The Acuity SDR+ is also offered in our Standard configuration. Offering the same versatility of the Acuity SDR+, but with our standard non-touchscreen display and advanced features. The Acuity SDR Standard offers the same exceptional digital imaging quality but with standard features at a budget friendly price point.
5″ standard display for simplified system operation
Occupies the smallest footprint within an 8' ceiling without limiting full-functionality
Removable grid
Integrated High Frequency X-ray Generator
Integrated high performance digital flat panel DR detector, with fast image display and exceptional image quality
Dual Laser Rotating LED Collimator
Technologist friendly features with collimator and system movement controls from Bucky
Integrated safety features with multiple emergency- stop buttons and collision sensors
Optional: Lightweight mobile patient imaging table, (max. Patient weight 516lbs.)
Optional: (AEC) Automatic Exposure Control