Next Generation. Digital
X-Ray Imaging.

 Next Generation. Digital X-Ray Imaging.



Slide 1
Industry leading
G3 Acuity DR solution.
Experience unbeatable performance with G3 Acuity DR panels. Increase your productivity and diagnostic confidence with features like Adaptive Window Control (AWC) and Lossless AED Technology.
10" Intuitive Touchscreen
Dual Laser Rotating Collimator
Industry leading
digital x-ray
digital imaging
G3 Acuity DR
solution.
Experience unbeatable performance with G3 Acuity DR panels. Increase your productivity and diagnostic confidence with features like Adaptive Window Control (AWC) and Lossless AED Technology.
Adaptive Window Control (AWC) in our G3 Acuity DR panels offer a very unique technology feature to address a recurring common problem with flat panel DR imaging. When using other DR panels on the market, the window time of the panel is typically fixed and limited resulting in the inability to capture data required for exams with longer exposure times such as breathing techniques or larger patient anatomy especially in a portable environment. Radmedix AWC solves this problem with built-in technology that allows the detector to automatically adapt/adjust to the exposure time required to complete those exams, capturing the full exposure with confidence.
Senses and "Adapts" to Window Time



As mentioned above, many DR panels on the market today have a fixed window time when setting up an exposure to x-ray a patient. Two seconds is a common fixed window time in these panels and will cover a good portion of exams performed. The downside of this fixed window time though is that if you're taking an x-ray of a foot or finger for example and it takes a tenth of a second, the window time will stay open for the full two seconds rather than the actual amount of time it took to capture the exposure.
AWC in our G3 Acuity DR panels speeds up this whole process meaning the window time won't stay open for the full two seconds in this scenario but rather it will "adapt" to match exactly how long the exposure lasts and senses when the dose ends. Once the exposure finishes, the window time shuts off and immediately starts processing the image rather than waiting the additional time like in a fixed window time. It drastically increases the speed in which you can acquire an image.
Full Power From Mobile X-Ray



AWC not only increases the speed in which you can acquire an image, it also allows you to get the full power out of your x-ray system in the mobile market. Take our Acuity PDR for example, since it's a mobile x-ray system the generator is not as powerful as our Acuity FDR+ floor mounted system or our Acuity SDR+ straight arm. Due to this lower power generator and intensity, the exposure may take over two seconds in certain exams with breathing techniques or when x-raying a larger patient anatomy. If you're using other DR panels on the market vs. our G3 Acuity DR panels with your mobile system then your window time is fixed and maxes out at one or two seconds.
If you can't take an exposure longer than two seconds then you're missing out on that extra time needed to properly capture the x-ray and you won't be getting the full power out of your mobile x-ray system because the panel is limiting what can be captured. Not only are you missing out on a properly exposed x-ray but your patient is getting the full dose whether your panel can capture all the data or not. It makes the most sense to ensure that the dose your patient receives is captured fully with a DR panel that has this capability which maximizes dose efficiency. Our G3 Acuity DR panels have got you covered.
AWC in our DR panels can also be useful in capturing x-ray images during certain exams that require breathing techniques such as lateral thoracic or lateral lumbar. Breathing techniques are performed when you need a clear image of the patients spine. To properly capture the spinal region, the patient breathes normally instead of holding their breath for other common x-ray exams such as chest/abdomen. When the patient breathes normally while an x-ray is being capture, certain areas of the lung will be blurred out that will allow you to get a clear picture of the spine. This whole shot normally happens over a full breath, which can last several seconds. Since the fixed window time of other DR panels is typically one to two seconds, you won't be able to capture the full breath needed for the clearest possible picture of the spine. AWC in our G3 Acuity DR panels however can adapt to the three – four second window time needed for the exposure and it will give you a properly exposed image leading to a more accurate diagnosis for better care of your patients.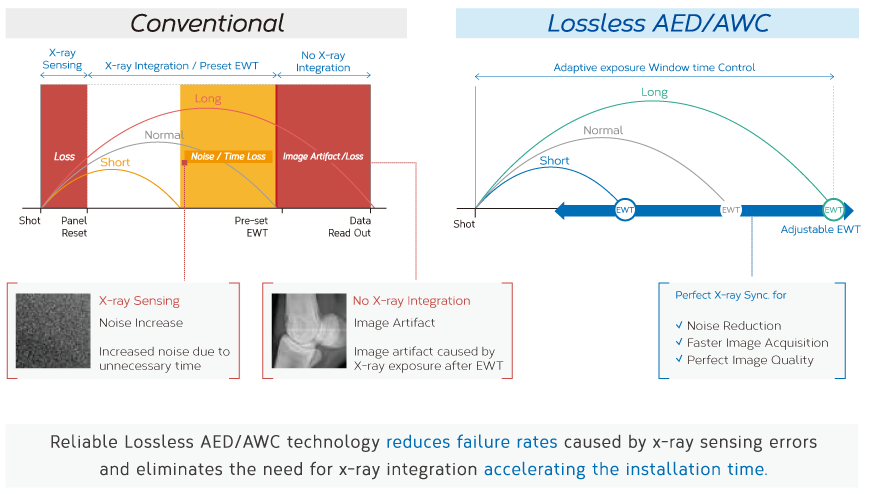 Adaptive Window Control (AWC) goes hand in hand with our Lossless AED Technology all in our G3 Acuity DR panels. Conventional Lossless AED in other DR panels is usually a three-step process. First you take an exposure with the panel and part of that exposure or dose is used to wake the panel up. Then once it's awake the panel captures the image, processes it, and sends it to the image acquisition software.
By using part of the dose to wake the panel up, you run a pretty high risk of missing an exposure during low technique exams such as 50kvp at 1 mass because there wasn't enough dose to complete the whole process. With our Lossless AED technology paired with AWC, the panel is already looking for the exposure and doesn't use part of the dose to wake the panel up, which is why we can use our panels in virtually any x-ray environment. We don't require you to tie the panel with the generator to capture exposures. Our Lossless AED Technology is the most reliable on the market with no missed exposures due to automatic detection when starting to shoot the x-ray and using AWC to sense right when the exposure/dose ends so the image can be processed immediately. AED/AWC can cut image acquisition time in half.
Radmedix's innovative, 3rd generation digital x-ray DR panel solutions combine advanced 'Information Technology' with the latest digital detector technology. With a complete detector size portfolio and versatility, G3 Acuity DR provides ultimate image quality that can be applied in multiple diagnostic imaging environments for various clinical applications. Whether seeking a retro-fit solution for an existing x-ray system or package with our fully integrated x-ray systems, the next generation of digital x-ray is here!
Exceptional Imaging. Optimized to deliver unmatched bone detail with TRU16 bit technology and direct deposited Csl. Direct deposited CsI can provide clearer images at the lowest dispersion compared to conventional CsI and GOS scintillator. High quality images are not a result of any one feature such as smallest pixel size or low electronic noise, but achieved when all components of the detector are optimized to operate in harmony with each corresponding specification.
Smart Switch. Smart Switch Technology allows for easy "smart switching" between two workstations for mobile and stationary x-ray needs. With a single push of a button, the G3 Acuity DR allows the user to quickly switch between a stationary x-ray room with a PC workstation to a portable tablet or laptop for ultimate portability.
Wireless Charging. G3 Acuity Wireless DR panels are embedded with the industry's first wireless power charging system (WPCS). WPCS enables seamless wireless charging in a dock between exams to keep the detector at maximum power while even in the most demanding clinical environments, eliminating monitoring remaining battery life.
Waterproof IPX-4 Rating. G3 Acuity DR wireless panels has the water resistance [IPX4] feature which provides protection against blood, sudden rain or other contaminants which can affect the detector performance in mobile applications. Delivers reliable performance in any environment and unexpected situations providing a perfect portable solution for digital x-ray diagnostic imaging.
Transform Your Practice Today With Our G3 Acuity DR Panel Line!